The tiniest of all tiny theatres in Northern Europe –
One-man theatre for all ages
Performed in Norwegian, Swedish, English, German, French, Italian and Dutch.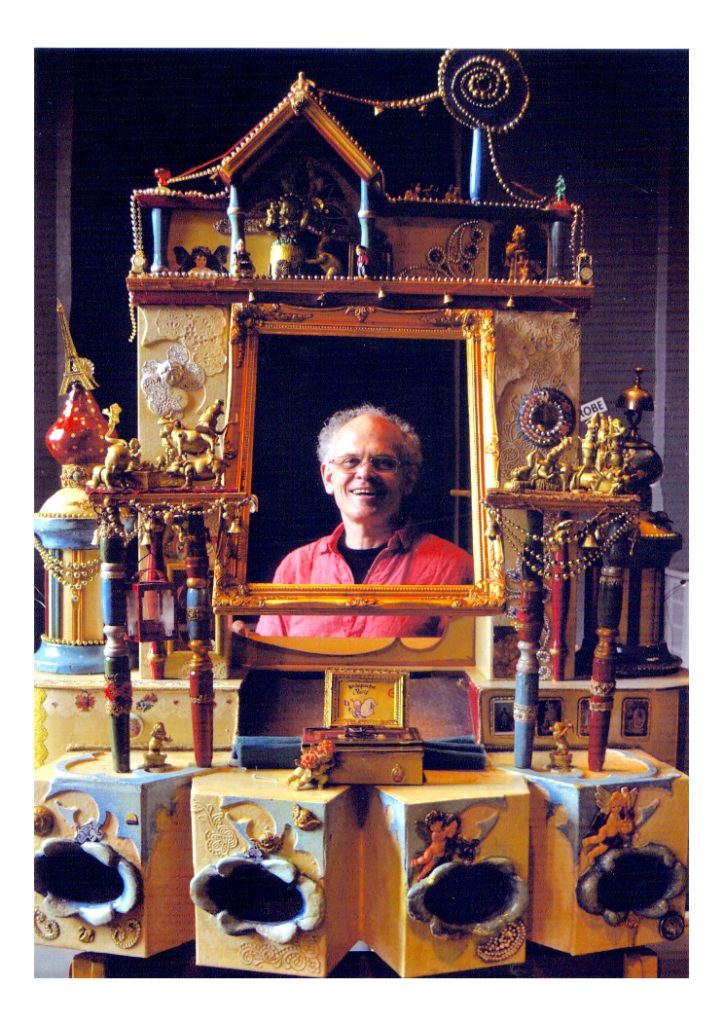 Our custom-made mini theatre has 4 small peepholes, one for each spectator.
Each performance lasts approximately 6-7 minutes, and is shown continuously for 3-5 hours per day.
Inside the cabinet micro theatre is played out, as inspired by a now extinct tradition from the Middle East and Asia Minor.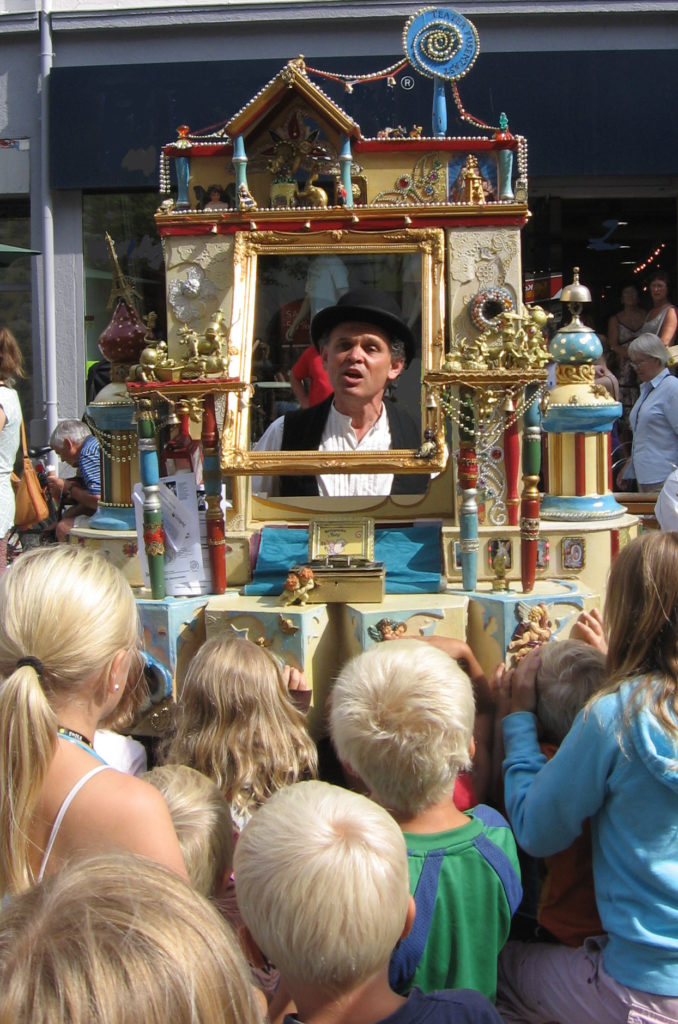 Our Panopticum is very much inspired by the children's book: "The Box of Marvels" (German, Der Wunderkasten) by Syrian-German author Rafik Schami. The book describes in detail how this tradition of story-telling is dying:
An old man travels around with a box similar to ours on his back. But no one is interested anymore. Not even the children. And the worn down contents are falling apart …
In the ancient form, the story was shown on a roll of paper, as it was told.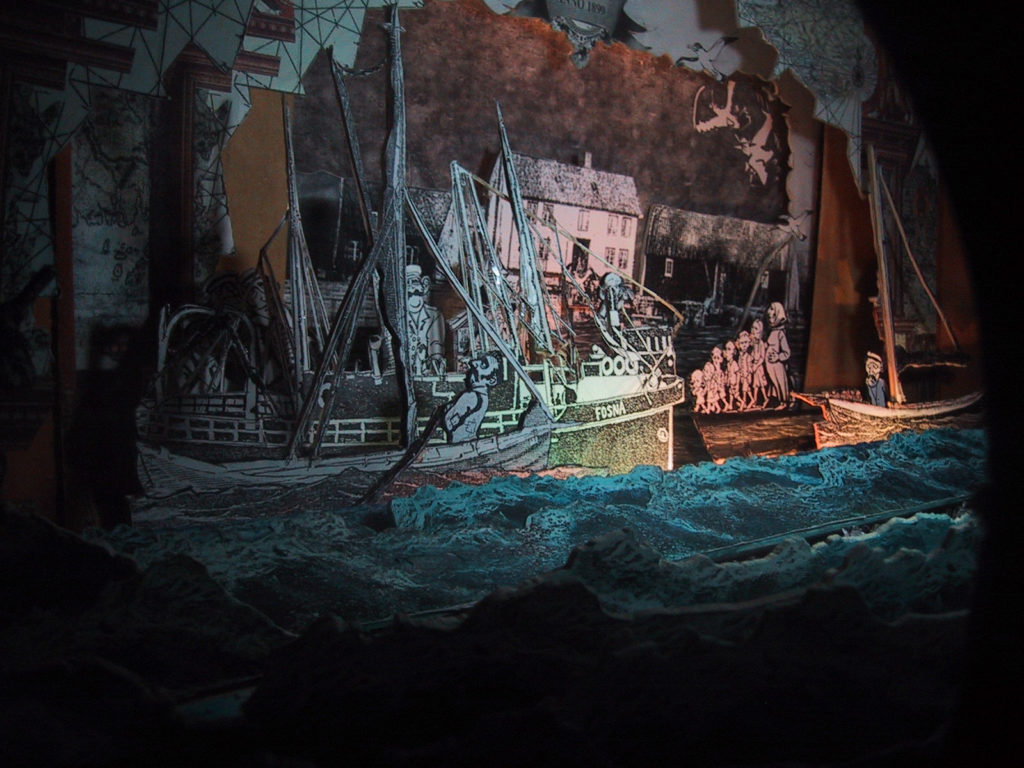 Fusentast's version is enriched with Jaap den Hertog's scenographic inventions and paper puppets.
And in stead of merely telling the stories, he plays the characters. While leading his little paper dolls with the help of an ingenious system of numerous cords and wires, he also operates lights and sound, and maintains eye contact with the surrounding crowd. They can hear and watch the charming Panopticum while awaiting their turn.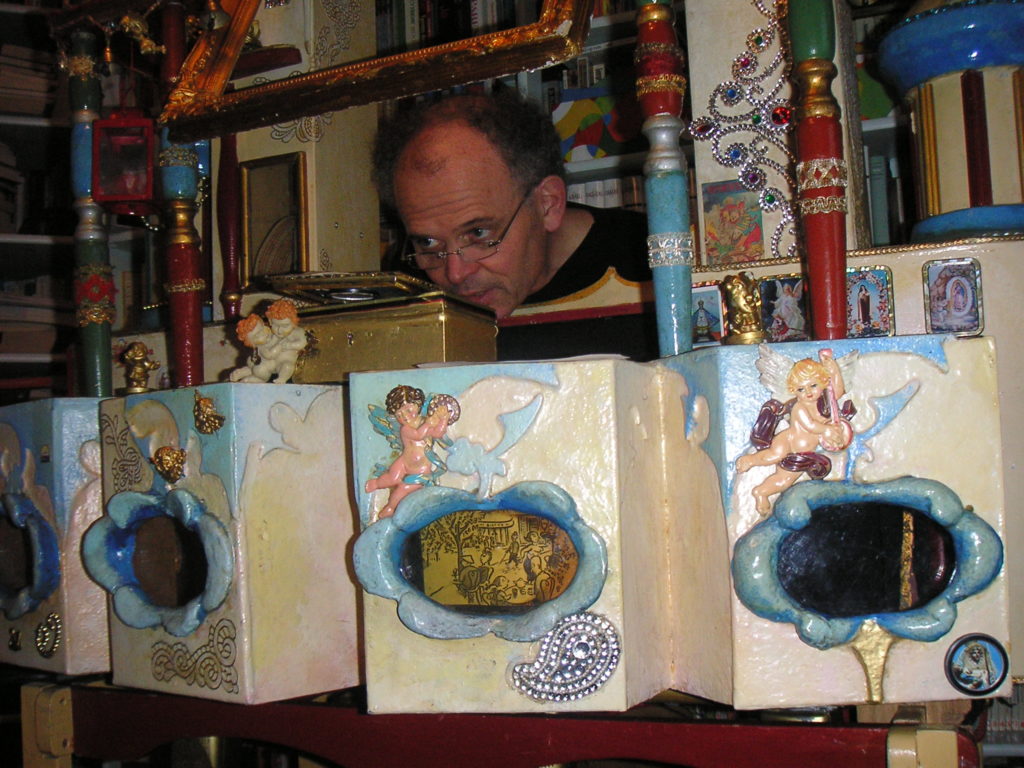 Panopticum pieces
So far we have created 4 different micro-theatre pieces for Panopticum
– all done with director, script and dramaturgy: Elin Hassel Iversen,
concept, production and stagecraft: Jaap den Hertog,
carpentry on Panopticum: Kristin Giske.
Different artists are tied to the performances, se below.
The cuddle cushion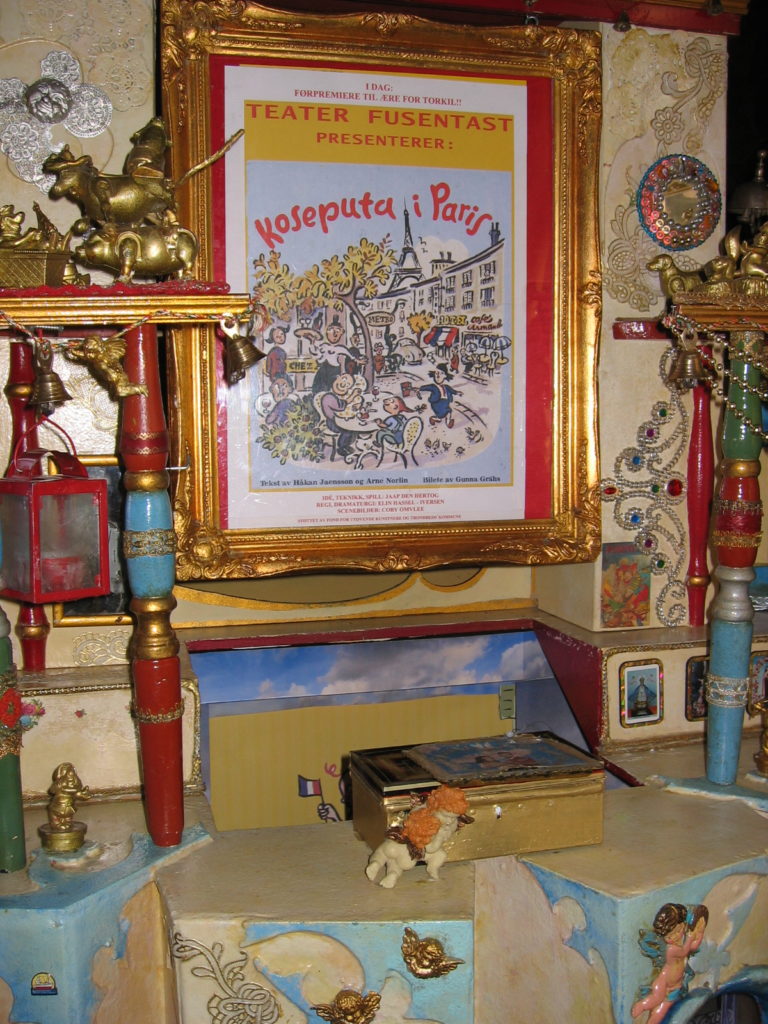 Kalle loves his Cuddle Cushion. He cannot do without it. Not even when he goes to Paris with his daughter Sofie.
Everything goes well until the Cuddle Cushion falls from the Eiffel Tower … the incredible story of what happens following the cushion's journey through the air.
Kalle and Sofie spend the rest of their vacation days trying to track down the Cuddle Cushion. Sometimes they are very close. We, the spectators, are aware of this, but the two cushion chasers are not.
Poor Kalle is occasionally at the brink of a nervous breakdown. Sofie keeps his spirits up.
We follow them as they meet an interesting cross-section of the population of Paris.
But suddenly the day arrives when Sofie and dad Kalle have to return back to mom in Sweden. Will they find the cushion before having to leave?Plutselig kommer dagen da Sofie og hennes Pappa er nødt til å ta flyet tilbake til Sverige, og til Mamma. Vil de finne puta?
Based on the Swedish book The Cuddle Cushion in Paris by Arne Norlin and Håkan Jaensson.
Drawings by Gunna Grähs, adapted for Panopticum by Coby Omvlee.
Technical solutions and puppets, installed and played by Jaap den Hertog
Italian translation: Cinzia Marine
Translations to French, Dutch and English: Jaap den Hertog
The Parisian Pillowcase is Fusentast's fourth Panopticum performance. So far it has been played in Norwegian, Swedish, English, French, Italian and Dutch, at festivals and as a guest performances in Norway, Sweden, Denmark, the Netherlands, Belgium, France and Italy.
Thanks to The Norwegian Art Council for support 2018:
Resumption before Brunnen, Switzerland
Mediation/guest performance in Ravenna, Italia
Titranic
Teater Fusentast tells the story of what happened to 6-year-old Ole Myrseth from Kristiansund during the terrible night of the storm, Friday October 13th 1899. For everyone age 5 and older.
We are at Titran outside the island of Frøya in Trøndelag County. Out there, the sea Frohavet, is boiling with herring. Little Ole Myrseth from Kristiansund is allowed to join his father on the fishing boat … And a terrible storm comes.
This true story is based on what happened when the unexpected storm arrived and many fishermen lost their lives in the waves. And about how Little Ole survived.
The real Ole became a restless adventurer, with a life full of more or less risky adventures. We had the honour of playing Titranic for his grandchildren at Hitra. A very nice experience.
Set design, based on old engravings: Gunnar Fretheim
Illustrations for the paper dolls: InkaLill
Translation into German: Sonja Omvlee
Translation into Italian: Cinzia Marini
Translations into Dutch and French: Jaap den Hertog
Titranic 2
A special version made for sick children. In stead of four peep holes it is adapted for bedrikken audience.
Played in quiet surroundings like hospitals for 1-2 children at a time.
Nora – The Moving Picture Show
For festival cafés, theatre foyers and the like, preferably at night when all children are sound asleep.
Famous stars from abroad show unexpected sides of their family life.
On request from Ibsen lovers at 'The National Association Friends of the Theatre' (Landsforbundet Teatrets venner), we have settled for Henrik Ibsen's "A Doll's House". For this marathon performance – a full 7 minutes – the interior of the Panopticum has been transformed into the bourgeois home of Helmer and Nora.
Helmer is far from a handsome man, and he is certainly not content with that. He would prefer to look more like a muscle man. Which means that he really needs extensive and thus very expensive plastic surgery. His "Little Lark", wife Nora, acquires a loan to finance the soaring surgery bills.
To get access to a loan, she has to forge the signature of her recently deceased father. But she must conceal this. Slowly her life turns into a mess of lies, including dancing the tantalizing Tarantella for Helmer. Will something wonderful happen?
I rollene finner vi:
Helmer: Rowan Atkinson/ Arnold Schwarzenegger
Nora: Pamela Anderson/ Brigitte Bardot
Fru Linde: Liv Ullmann
Krogstad: Sean Connery
Dr. Rank: John Lennon
Barna: Michael Jackson, Shirley Temple, Macauley Caulkin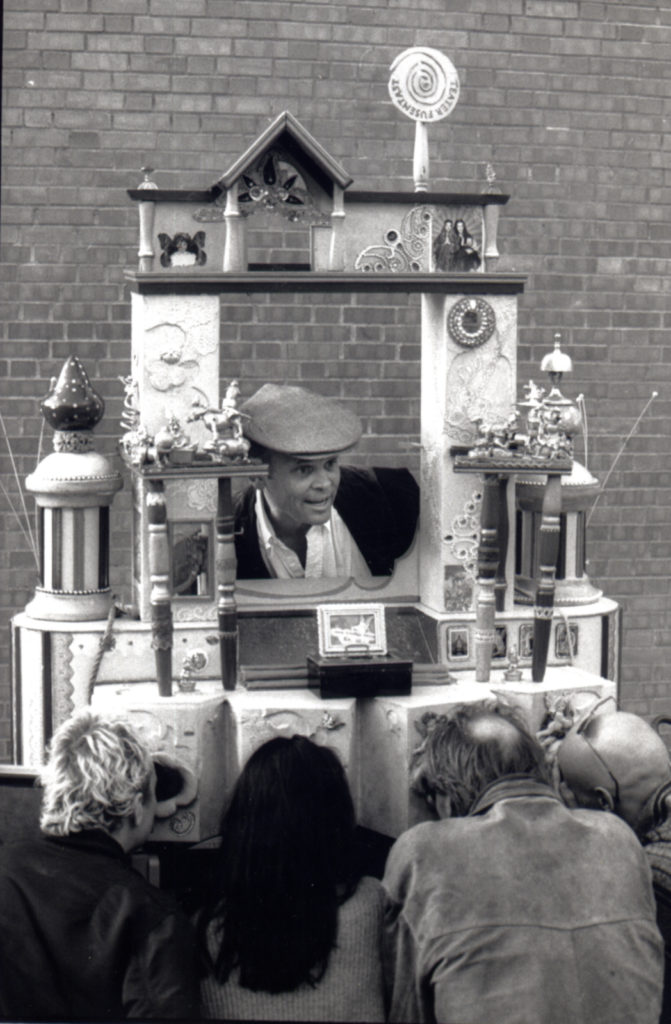 Set design, illustrations for the puppets: Leiken Vik
Assistant Set Designer: Alexandra Aga Ulvestad
Translations into Dutch and English: Jaap den Hertog
The show has been a favourite at many international theatre festivals, among others at two Ibsen Festivals at the National Theatre in Oslo.
Performed in Norwegian, English and Dutch.
Director Elin Hassel Iversen wrote this article about the production of Nora – the Moving Picture Show (in Norwegian) for the book "Ibsen and Figure Theatre – Figure Theatre and Ibsen" edited by Anne Helgesen.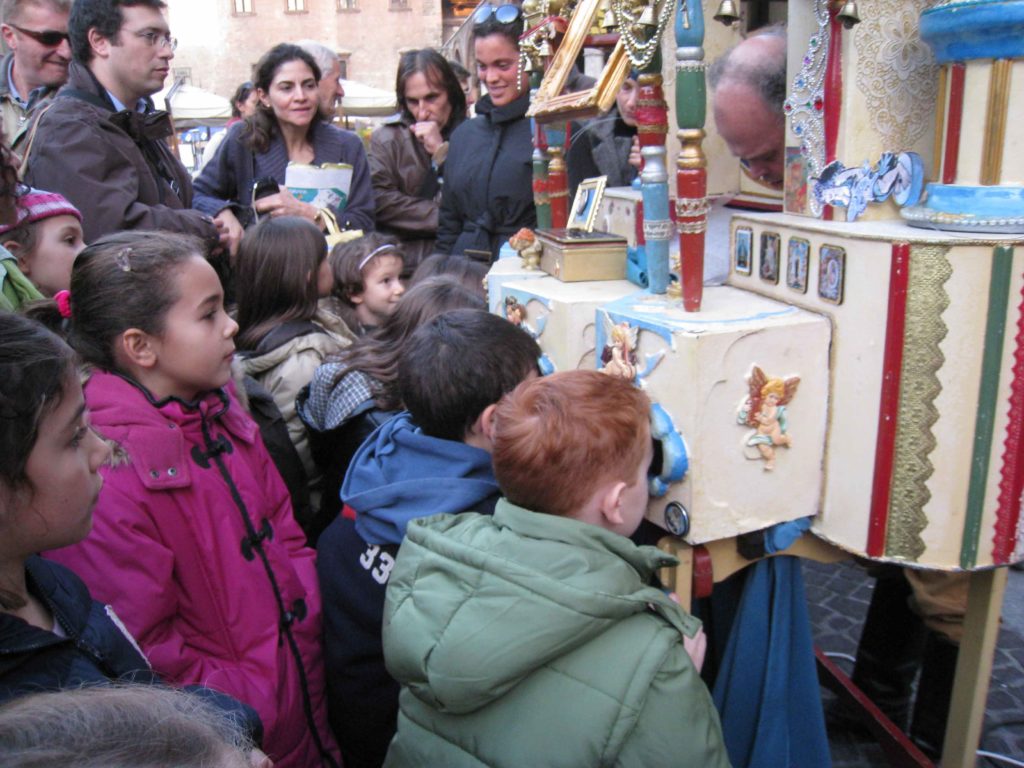 1000 år i boks
The first Panopticum performance was created for the city's 1000-year jubilee in 1997, portraying the history of Trondheim in 5 minutes!
For obvious reason, it is no longer being performed.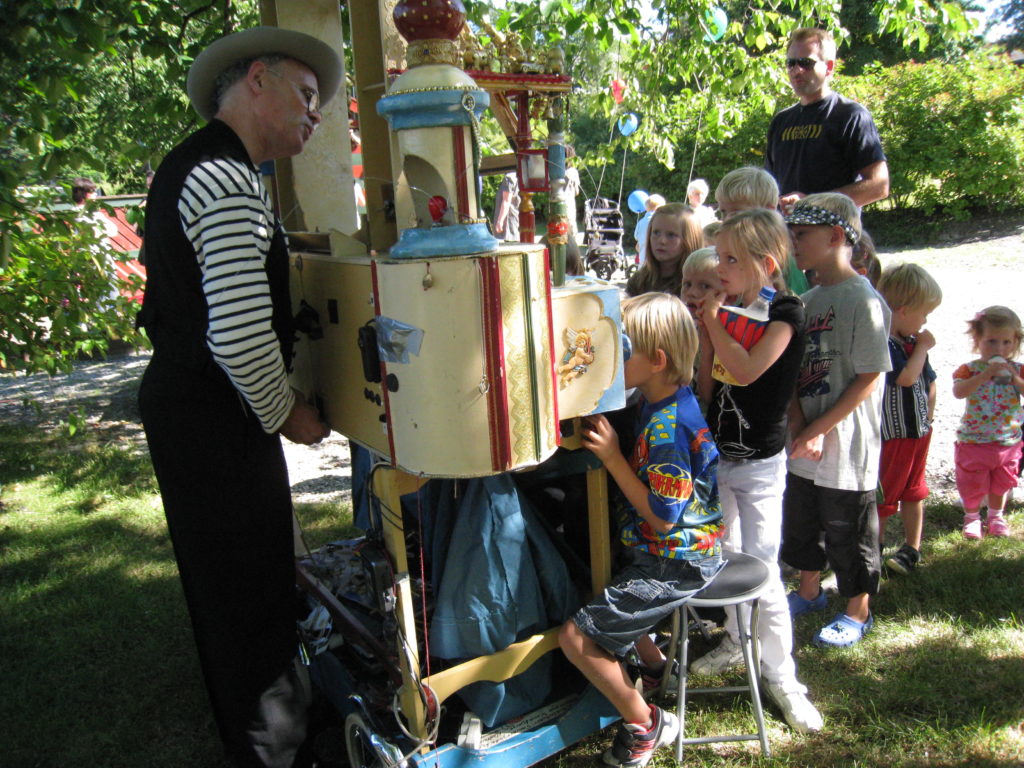 The performances are created by:
Stage direction, script and dramaturgy: Elin Hassel Iversen
Concept, inventions, stage technique and production: Jaap den Hertog
Carpentry for the Panopticum stage: Kristin Giske
In addition there is a separate writer/illustrator team for each new performance, as seen above.
Touring
Our Panopticum shows have times over been performed in Norway, Sweden, Denmark, the Netherlands, Belgium, France, Austria and Italy; consequently played in Norwegian, Swedish, Dutch, English, German, French and Italian.