Dots on canvas, porcelain, wood, glass and metal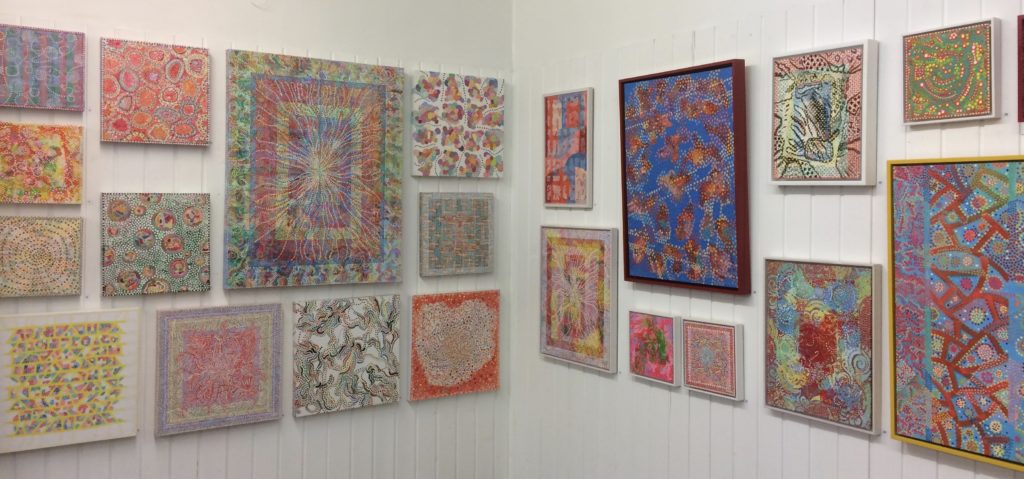 Theater Fusentast's Coby Omvlee has always loved colors and shapes. And dots. Her expression has over the years appeared in the form of drawings, free embroidery, as well as scenography, posters and puppets for various theater performances. From 2004 she started making paintings, independent of the theater work. That's when the dots came back in full … Painted dots, round stickers or both in beautiful union have from 2005 left traces in her works. Using oil or acrylic paints, collage techniques, computer drawings or blending techniques. She made wall sculptures of plastic and glass. Started painting on "ready-mades" to give them new – and different – life, be it mugs, glasses, porcelain figurines, wooden barrels and other interesting objects. Central to her pictorial world is working in layers. Preferably with an underlying motif that barely shines through, while at the same time you can see the new surface.
Coby Omvlee has participated in group and solo exhibitions, Surnadal kunstforening, Galleri Ugress in Oslo, Galleri Liljen in Trondheim … and at two "martna"s in 2021, Rennebumartnan og Surnadalsøra. The corona crisis put an end to participation in art markets in 2020.